Cain leads Abel to death, by James Tissot.
Child with cane
Armed and dangerous
LAURENCE JANTZEN
ANTIQUE CANES FOR COLLECTION
AT LOUVRE DES ANTIQUAIRES - PARIS
http://www.laurencejantzen.com/index_en.htm

Charlie Chaplin's cane sells for US$91,800




A bamboo cane that Charlie Chaplin used in the classic 1930s spoof "Modern Times" sold for US$91,800 at a sale of movie memorabilia.



MOON WATER SQUIRTER
Malacca shaft cane with craved handle of a wolf; c. 1920.
IVORY CLOWN WITH A HAT
IVORY MEPHISTOPHELES
Flick stick open blade with
mechanism
DOUBLE GADGET CANE: WATCH AND
DAGGER
NAPOLEON THE FIRST SEDITIOUS CANE
SAMOURAI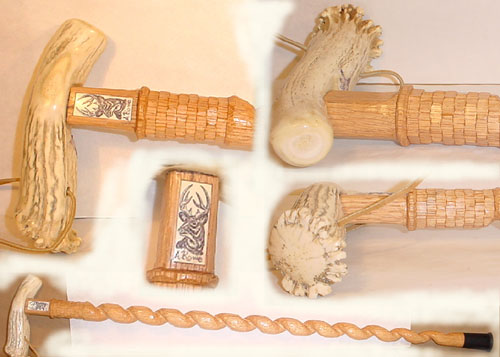 DEFENCE SWORD CANE
ROSARY HOLDER GADGET CANE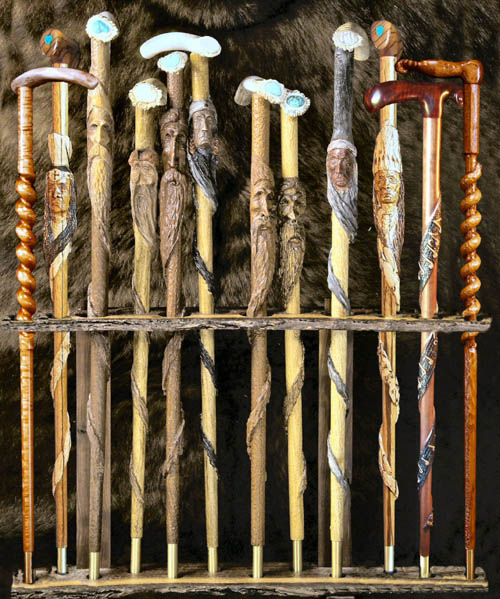 18th century Naval cannon cane in 36 caliber.
Krupp Cheroot cane The bore is 36 caliber and the length 5". It's machined from solid 1.250" diameter 1018. The staff is 7/8" oak.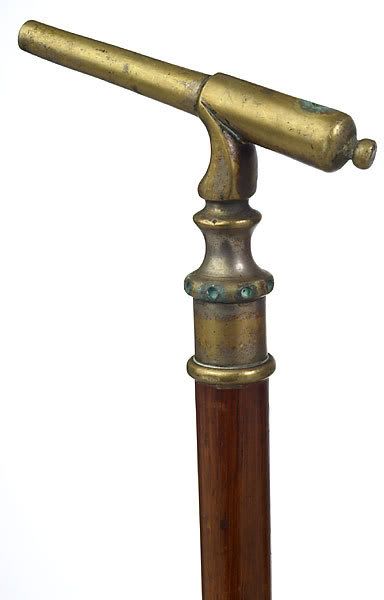 Cheroot cane
1:42
Lady's cane with handle of a cat, stamped BRIGG
on shaft; c. 1900.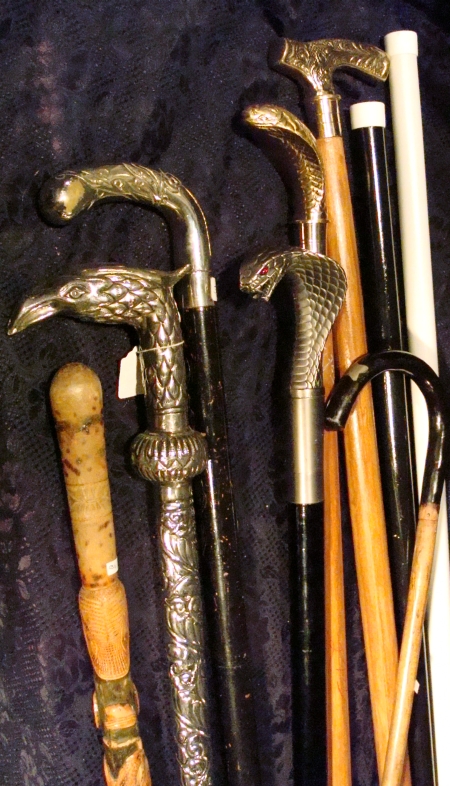 Ebony cane with Indian ivory handle four
inches high, of four mythical beasts; circa 1920.
Picnic Gadget Walking Cane (c.1920 )
A lovely gadget cane with decorated brass mounts.Twist the pommel top off and one can see a dark wood case with again brass mounts.The case pulls apart to reveal a knife and fork. The knife stamped with:
SHEFFIELD
ENGLAND.
The cane is in lovely condition with appropriate wear for age.Free from breaks or cracks.
Cane length: 95 cm
Ebony cane from Ceylon with elephant and cobra
handle; c. 1870.
Tall cane with handle of a Chinese sage carrying a staff and
holding a fruit; height 45 inches, 114 cm, circa 1880.
Ebony Fist Handle
Ebony is a dense and heavy wood used for making a variety of items including musical instruments such as bagpipes, violin pegs, chessmen, buttons, handles for cutlery, and of course stick shafts and handles, for which a strong wood is a necessity. Ebony is one of the most difficult woods to carve given its hardness, and traditionally only master carvers were given the opportunity. Ebony trees are relatively small, and are found in the tropical rainforests of Africa, India, Ceylon, Malaysia, and Indonesia. The bark of ebony is tan and generally light in color, and the outer wood is a soft white. It is the inner portion of the tree that is fine-grained, dense, dark colored, strong and heavy, and has been prized for centuries.
Known for its jet-black color, ebony varies from deep black to dark red, with a variety of rich dark shades. Heartwood may display dramatic and irregular striping of bright brown, gray or greenish black on a deep black background. It is genetics that determines the shade, along with moisture, mineral content of the soil, and age/growth rate of the tree. Generally, the darker ebony is found at higher altitudes and from older trees. Ebony with more red tones has its origin at lower altitudes and from soil with greater iron content. Ebony is a scarce and costly wood.
Cloisonne on Ebony with a Horn
ferrule, 1884. (Ebony refurbished
or possibly renewed) the length is
36 1/2".
Horn on Rosewood with a silver collar, 1919.
This cane is 40" long.
Large silver top on Malacca, circa 1870, the
overall length of this cane is 35 1/2", including
a long ferrule of 4 1/2".
Wooden carving, circa 1890, from the Pitcairn Islands where
he mutineers on the bounty settled.
Elephant Ivory
Carved Horn " Leg & Hoof", silver collar on
Rosewood, circa 1890. The length is 34 3/4"
Porcelain on Malacca with Gold eyelets and a Horn
ferrule, circa 1840.
Lady in Porcelain on Ebony.
Deemed "morally objectionable"
by the Legion of Decency,
"Miracle on 34th Street", showing
Kris Kringle's cane is in the corner by the fireplace

, which convinces them that maybe there is a little Christmas magic involved in all this, after all…
Walrus ivory
Was carved for my Dad's Daddy
Diamond Willow is its name.
Granddad got it from a friend
who never made two quite the same.
I got it out the other day
let it share my life with me.
Guess I need a little guidance
from the spirit of that tree.
I feel old Granddad through the cane
and I feel my Daddy's hand.
There's secrets in that twisted branch
from men that loved the land.
The "Diamond Willow Special"
don't find 'em much no more.
Got to go down by the river
they don't sell 'em in a store.
Find a river man with special skill
who can carve that diamond wood,
with a keen eye and a sharp knife
and gifted hands to make it good.
Tell him you miss your Daddy
and you miss your Granddad too.
He'll pick a special willow cane
and carve it just for you.
He'll pick a diamond in the rough
and carve it just for you.
Horn and Rolled Gold on Malacca, circa 1890. The
length is 35".
Nilgheri cane with silver eyelets and silver
monogrammed cabouchon circa 1830.
A selection of Amber tops with a silver collar on Ebony,
The Walking Stick Shop
http://www.walkingstickshop.co.uk/index.html
Lord Nelson in hand painted compound on
polished maple on one side, the other side
depicting H M S Victory.
"Baroque" Sycamore and Ebony on an
Iroko shaft with a lain silver collar and a
Horn ferrule, the length is 40 3/4".
Irish Blackthorn.
Olive wood knob on a Maple shaft with
silver collar.