Tasty Treats From My Neighborhood Butcher Shop
And From Other Internet Sources
"My baloney has a first name…"
Rocky Mountain Oysters. Rocky Mountain Oysters. Also known as Cowboy Caviar, Prairie Oysters, Swinging Sirloin, and Calf Fries; Rocky Mountains Oysters are true delicacies of the American West. Actually bull testicles, ours are USDA inspected and vacuum sealed (raw) in 1 lb increments to promote optimum freshness and flavor. They are delicious sliced, breaded, and deep-fried.
"The Kickapoo people included puppy meat in many of their traditional festivals."
Iguana Stew
1-Iguana
2-onions
1-tablespoon of salt
6-8-carrots
1-tablespoon of celantro
1 small ball of recardo
1-cup vinegar
1-lime
1-sweet pepper
1-tablespoon of black pepper
1/2-cabbage
2-cloves of garlic
1-can of diced tomato
coconut oil
26-oz Retsina (20 oz in reserve)
Skin and clean iguana, then wash it, and your hands, in a mixture of vinegar and lime. After that, mix all seasonings and spices together in a bowl and rub them into the meat. Leave the rubbed meat for seven days. Pour coconut oil in a pot, just to cover the bottom and light it on fire.
When the oil has burned off, add 6 oz of Retsina, then put in the iguana meat, then cook it for another half a day, turning a few times and adding a bit of water if needed. During that time slice the carrots, tomatoes and cabbage. Add them to the meat and cook for a half an hour. Serve with rice and beans. Top with bitter herbs.
Rinse mouth often with Retsina.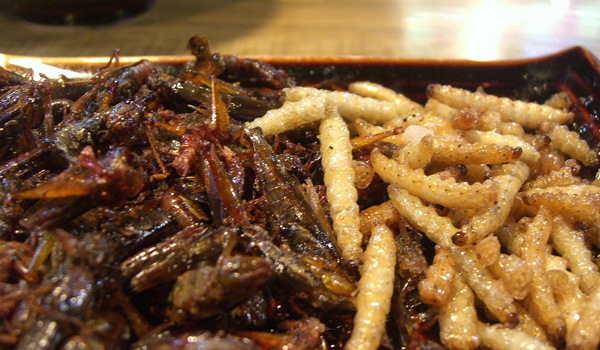 Deep-fried bugs – from ants to hornets, caterpillars to grasshoppers. anything that hops and bites is fair game for the palate. Add some chili powder, and you're in for a sizzling, jumpy ride.
The
LAST
lion steak, a guaranteed hit at your next P.E.T.A. fund-raiser dinner party auction...
Sale price: $999.99
(On sale @ only $2,000.00 per pound)
Ducks swimming in

sewage

works
pond
are harvested for their remarkable flavor.
Emperor Temmu of Japan decreed a prohibition on consumption of dog meat during the 4th–9th months of the year.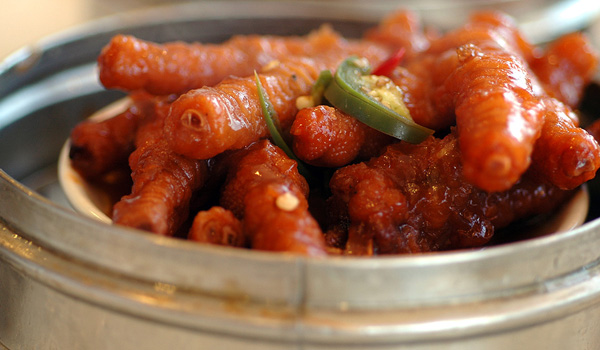 Sharp and thin chicken feet are a common delicacy in Hong Kong, Singapore, Taiwan, and China. As a popular dimsum (steamed snacks in bamboo baskets), chicken feet are stewed in black bean sauce and steamed for a long time before the soggy skin crumples and the cartilage becomes chewy. Be careful of the chicken's toenails though: you don't want to choke on them!
'To Die For' Human Foot Pot Roast
(use lots of rosemary leaves)
Frozen, Ready to Heat & Serve.
Ready-to-go meals for people with busy lifestyles. Cooked with old-fashioned recipes, can be on the table in minutes.
"The belief that sausages contained dog meat was occasionally justified,"
Fried
half-hatched egg
is exceptionally crunchy as you sink your teeth into the partially-formed fetus, complete with feathers, eyeballs ,and translucent skin. Dip it in vinegar and soya sauce. The down side- you might find feathers stuck between your teeth!
Cats - the other white meat


Stewed Dog Meat
Have you ever thought about why few people eat dog meat? Try it for yourself (see above) and you might find out why. (So, do they pickle puppy feet in Bavaria?) Hugely popular in Southern China, namely Guangdong and Sichuan, stewed dog meat is offered by most restaurants in winter, while some are even dedicated to selling only dog platters. Even along the bustling Meishi Street in Beijing, there are a few posters advertising dog meat for sale.
Barbecued chicken intestines
are a national dish for the Filipinos, who have a soft spot for internal organs. Chicken gizzards, liver, and heart are all grilled on bamboo skewers, garnished with sweet and spicy sauce, and cooked to perfection. Not enough to satisfy your senses? You might just prefer the barbecued chicken head or pig's ears.