Christianity is haunted by the theory of a God with a craving for bloody sacrifices.
J.B.S. HALDANE, Possible Worlds and Other Paper
Tracie Harris is a graphic designer in Austin, TX. Raised in Orlando, FL, she received her BA in Liberal Studies from the University of Central Florida. Her long, slow recovery from a rabid fundamentalist upbringing led her to the creation of Atheist Eve.
"Atheist Eve" has been published monthly since 2004—hosted online by the Atheist Community of Austin. The comic is dedicated to encouraging atheist activism, educating the public about modern misconceptions of atheism, and inviting people of all beliefs and backgrounds to enter into the public dialogue.
http://www.atheist-community.org/atheisteve/?id=26
http://www.cafepress.com/atheist_eve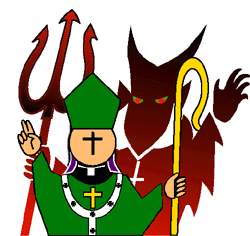 Vatican Denies Priests Abuse Nuns
The Vatican has denied a report in the National Catholic Reporter that says sexual abuse of nuns by priests is a serious problem.
The article is based on five reports by senior members of women's religious orders and a priest going back to 1994. The National Catholic Reporter said the reports have been discussed at top Vatican levels.
Vatican spokesman Joaquin Navarro-Vallis acknowledged there were isolated cases of priests sexually abusing nuns but said the problem is "restricted to a limited geographic area."
While the Vatican did not name the geographical area, the report said most incidents of sexual abuse against nuns occurred in Africa where the nuns were identified as "safe" following the onset of the HIV and AIDS viruses devastating the continent.
Navarro-Vallis said the Vatican is working with the leaders of religious orders and he stressed the heroic work of many priests and nuns.
Fr. Bernardo Cervellera, director of Fides, the news agency of the Vatican's missionary arm, said celibacy has always been a struggle for some priests but he was surprised at the accounts of sexual abuse.
He said: "I was a missionary for 25 years and I never encountered such a problem. Instead, I found priests and nuns who gave themselves wholly to people with leprosy, with AIDS ... priests and nuns who live their love for Christ." Ananova, Reuters, 3/20/2001
Life is like walking through Paradise with peas in your shoes.
CHARLES EDWARD JERNINGHAM, The Maxims of Marmaduke
Click for video
Altered Boy
Unholy pedophile
Preying on the innocent
Protected by the papacy
So called men of enlightenment
Children fingered by the hand of God
Raped in the name of Christ
They took a vow of chastity
Yet have torn asunder so many a life

Chorus:
Chickenhawks of the Catholic Church
Out to save and destroy
They have become the preist of burden
And he's become an altered boy

Men so benevolent
In a position of trust
Molesting children by the score
Rendering young life straight into the dust
They're curch is their Golgotha
Their crucified by the priest
Child becomes the victim
Holy Father becomes the beast

Repeat chorus

Multi-million dollar payouts
Restitution for their crimes
This vile sickness
Cut so many down in their prime
All the bishops and the cardinals
Tried to hide it away
In the parish and cathedrals
The predators come to prey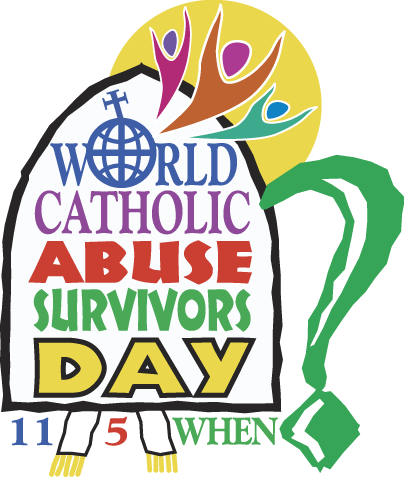 "If the punishment cannot be secret, there must be no punishment, and no admission of priestly weakness."

KANSAS CITY, Mo. — A bishop in the Roman Catholic Church has been indicted for failure to report suspected child abuse, the first time in the 25-year history of the church's sex abuse scandals that the leader of an American diocese has been held criminally liable for the behavior of a priest he supervised.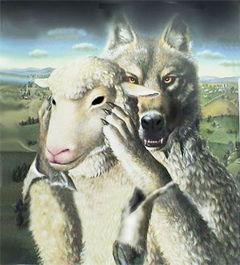 He who begins by loving Christianity better than Truth will proceed by loving his own sect of church better than Christianity, and end by loving himself better than all.
SAMUEL TAYLOR COLERIDGE, Aids to Reflection: Moral and Religious Aphorisms
Four in 10 US Catholic nuns report having experienced sexual abuse, (a rate equivalent to that reported by American women in general), a study by Catholic researchers supported by major religious orders, has found. The study found that sisters have known sexual abuse less in childhood, dispelling what the authors call an "anti-Catholic" canard that girls fled to convents to escape sexual advances. During religious life, close to 30% of the nation's 85,000 nuns experienced "sexual trauma," ranging from rape to exploitation to harassment. A total of 40%reported a least one experience of that kind. NCR, 1/15/99 See The Nuns' Stories for details.
The Wisconsin Psychological Association's survey found offenders distributed among the following professions: Psychiatrists 34%, Psychologists 19%, Social Workers 13%, Clergy 11%, Physicians 6%, Marriage Counselors 4%, and Others 14%.
The Center for Domestic Violence found that 12.6% of clergy said they had sex with church members. 47% of clergy women were harassed by clergy colleagues.
The Presbyterian Church stated that 10-23% of clergy have "inappropriate sexual behavior or contact" with clergy and employees.
The United Methodist research (1990) showed 38.6% of Ministers had sexual contact with church members and that 77% of church workers experienced some type of sexual harassment.
The United Church of Christ found that 48% of the women in the work place have been sexually harassed by male clergy.
The Southern Baptists claim 14.1% of their clergy have sexually abused members.
Paedophile: Christopher Jarvis hides his face as he arrives at Plymouth Crown Court today.The former child safeguarding officer for the Diocese of Plymouth was jailed for 12 months
A Catholic Church child safety co-ordinator who was in charge of investigating sexual abuse allegations was jailed for 12 months today for internet peadophile offences.
Christopher Jarvis, 49, a married father-of-four, investigated historic claims of child abuse, interviewing the victims when they were adults.
He was responsible for child protection at 120 churches and parish community groups for nine years.
He also, as a member of the Devon and Cornwall Multi-Agency Safeguarding Team, had access to police and social services information about victims of child abuse.
As a result of the conviction and sentencing, the Roman Catholic Church has ordered a review of child protection across the South West of England.
According to The Times, the Bishop of Plymouth, the Right Rev Christopher Budd, has asked the NSPCC to carry out the inquiry into child protection arrangements in Devon, Cornwall and Dorset.
Acknowledge that you have faults (sins) and then repent -- change your attitudes and pray
Act like a Christian in any circumstance. Follow Jesus' (the Son of God) greatest commandment: Love God completely and everybody even if they treat you wrongly whether you know them or not. Jesus said "love your enemies and pray for those who persecute you" Jesus says in John 13:15, "I have given you an example, that as I have done, so should you do." In I Corinthians 11:1, Paul says, "Imitate me as I imitate Christ." Ephesians 5:1 says, "Be imitators of God as dear children." Also many Believers are "empty, swept and garnished" (Matthew 12:44) by lukewarm Christian Doctrines. If you just go to church, you will be a weak Christian and trials will make havoc of your life. But if you go to church and read the Word every night, you will be a strong Christian. Most Christians do not read the Bible every day, so if all you do is go to Church you will be a weak Christian. A few of my favorite Christian building passages are Proverbs 8:17-21. Psalms 1:1-3. John 14:21-27. James 1:2-8. I Thess 5:16-18. II Timothy 1:6-7, Hebrews 8:6,10. Ephesians 6:10-18. Proverbs 4:20-23.
OK...
1:11