Full screen - speakers up
The Romance and Dangers
of Train Hopping
Click to hear train whistle
EX-UP6930A.wav:
A Leslie S5T
on a Union Pacific freight
HOBO SOUL
http://www.thehobosoul.com/blog/?page_id=2832
Click to hear train horn
S3J_PC.mp3:
Penn Central freight.
Click to hear whistles
F Berry K-5LA, S-5a dual.mp3
at Bloom's crossing, Manassas, Va.
Click to hear train horn
LK-Leslie-S3E-3a.wav:
Watch, Railroad Model Pocket Watch
Railroad conductor's watch, Hamilton Model 950, 23 jewels. Size: 1 7/8" diameter - 1/2" higher at top. 16 Size. 23 Jewels, adjusted 5 positions. Motor barrel 1634902. Nickel finish with gilt lettering, gold train and jewel settings. Open face, stem wind and lever set. Double sunk dial reads Hamilton, every minute numbered. Case marked: Keystone Watch Case Co. (the 'Co.' inside a keystone) scales, J. Boss, 10 k filled, Patented 9761406
Kerosene torch used by a steam locomotive inspector
A railroad conductor on a passenger train was the supervising officer of the train and supervisor of the entire train crew. In addition to this supervisory role, the passenger-train conductor serves as the pursar, in charge of seeing to it that all fares are collected, either by himself personally or by his assistants, the uniformed trainmen on board. After fares are collected, the conductor does the accounting. A passenger-carrying railroad company was (and is) thus dependent on responsible and diligent conductors for its income.
A conductor's punch cancelled the passenger's ticket stub and also cancelled the main portion of the ticket retained by the conductor. Each conductor had his own punch, which made a specifically shaped hole; the hole shape differed from punch to punch. In this way, if a passenger presented a stub and claimed his ticket had already been taken, a conductor could verify who in fact cancelled the ticket.
Dues button, Brotherhood of Railway Clerks, 1920.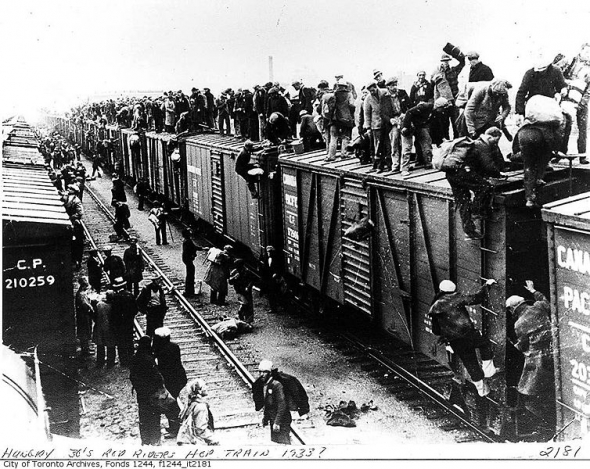 Train hopping

(also known as

freighthopping

) is "the act of surreptitiousy hitching a ride on a railroad freight car."(1) It is a practice that began right after the American Civil War and has grown popularity during the Great Depression when migrant workers, also known as Hobos, would hitch-hike on the rails in search of work.
Suprisingly, hobos were not just men, but women as well. In a book I'm currently reading called Sister of the Road, an anonymous American woman who called herself Box-Car Bertha, wrote about her railroad exploits in the 1930s.
"Girls and women of every variety seemed to keep Chicago as their hobo center. They came in bronzed from hitch-hiking, in khaki. They came in ragged in men's overalls, having ridden freights, decking mail trains, riding the reefers, or riding the blinds on passenger trains… The bulk of these women, and most all women on the road, I should say, traveled in pairs, either with a man to whom by feeling or by chance they had attached themselves, or with another woman."
Dues button, United Brotherhood of Maintenance-of-Way Employees
Locomotive Horn Signals
Ever wondered why the UP locomotives running on the track just down the block from your house always sound their horns four times when approaching your street? Or heard a whole series of short whistle blasts and wondered what they meant?
Basically, horns are sounded for safety reasons – to warn of approaching trains. The following list "translates" some of the horn signals you might hear. The "o" indicates short sounds and "=" is for longer sounds.
The General Code of Operating Rules (GCOR) contains information on horn use. These rules are frequently updated, and for the most up to date information, the sources of record are the GCOR, General Orders, Subdivision General Orders and Superintendent Bulletins.
Sound
Indication
Succession of short sounds
The whistle is sounded in an attempt to attract attention to the train. It is used when persons or livestock are on the track at other-than-road crossings at grade.
=
When train is stopped. The air brakes are applied and pressure is equalized.
= =
Train releases brakes and proceeds.
o o
Acknowledgment of any signal not otherwise provided for.
o o o
When train is stopped: means backing up, or acknowledgment of a hand signal to back up.
o o o o
A request for a signal to be given or repeated if not understood.
= o o o
Instruction for flagman to protect rear of train.
= = = =
The flagman may return from west or south.
= = = = =
The flagman may return from east or north.
= = o =

Train is approaching public crossings at grade with engine in front. Signal starts not less than 15 seconds but not more than 20 seconds before reaching the crossing. If movement is 45 mph or greater, signal starts at or about the crossing sign, but not more than 1/4 mile before the crossing if there is no sign. Signal is prolonged or repeated until the engine completely occupies the crossing(s).

In addition, this signal is used when approaching private crossings if pedestrians or motor vehicles are at or near the crossing. (In the states of California, Idaho and Montana, the whistle is sounded at all crossings, public and private.)

o =
Inspect the brake system for leaks or sticking brakes.
= o

Train is approaching men or equipment on or near the track, regardless of any whistle prohibitions.

After this initial warning, "o o" sounds intermittently until the head end of train has passed the men or equipment.